I'm a Paul & Joe virgin. I've heard of the brand (well known for its kooky, unique packaging), have seen it banded around on various beauty blogs in the past but have never used any of their products until recently. Viewing this collection up close, at a demonstration a few weeks ago was something of a learning curve for me and an introduction to Paul & Joe Beauty.
I know the new Autumn Collection from Paul & Joe, Clair de Lune is due out shortly and images and info are doing the rounds if you look hard enough, but Sahara Sparkles is still available to purchase (I called Paul & Joe to check) and it's still technically Summer (if we ignore the rain), so there!
I've been using a lipgloss from Paul & Joe's latest range of glosses, which I believe are permanent and available in 10 shades. Shade 03 Naked (Rose Beige), swatches as a pretty mid-tone rose pink which applies as a transparent sheen with a creamy finish. I love the pretty sparkly effect it has which makes it ideal for use on a night out, but not so over the top, that it can't be worn with ease during the day too. The versatility of this shade means it can be worn by a range of skin tones which is always a great selling point.
I like the brush applicator, which is neither too hard or too soft and distributes the gloss evenly and smoothly on my lips. The texture of this gloss is an non-sticky as a lipgloss can get, without the intervention of the wind blowing your hair in your face - because we all know when that happens, all lipgloss WILL stick to your lips!
I'd compare the lipgloss quality with that of the BECCA Glossy Lip Tints, which have similar moisturising properties. Paul & Joe lipglosses contain white lily extract and apricot oil which help to add volume and moisturise simultaneously. I can't say I notice my lip size increase when wearing this but it gets a big thumbs up for leaving my lips feeling moist and super-kissable. I really like the texture of this gloss and the more lipglosses I come across with these moisturising effects, the more I'm steering away from my pile of MAC lipglasses which leave my lips feeling so dry in comparison.
Meanwhile, a swatch of the finishing powder revealed an ashy catastrophe on my darker skin tone, so instead of letting the sample languish in a dark corner gathering dust, I called upon the services of Charlotte, writer of the splendiferous Lipglossiping.com
Keep reading to see what she thought of it ...
Today, I'm guest reviewing Paul & Joe's Finishing Powder in 002 from the current Sahara Sparkles collection. So here goes...
They pull it off every time don't they? Even though it's TOTALLY languishing in 1970s flock wallpaper territory, Paul & Joe make it look cool. I wouldn't want it in my bathroom... but on my finishing powder? That's one damn fine print!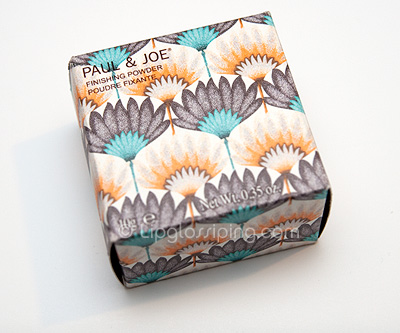 Let's have a peek inside...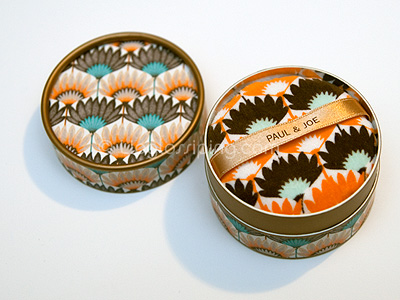 CUTENESS! No square mm of cardboard has been spared the P&J touch. But enough on the packaging... what's the product and how does it work?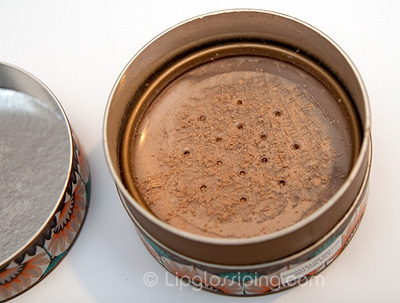 When I first saw the product I thought I was confusing my bronzers for my finishing powders and promptly lost all faith in Yinka's colour-matching abilities. I even phoned up Benefit... and they wanted to know if she was able to start on Thursday ;)
However, I shouldn't have doubted her abilities... it's beautifully sheer and barely imparts any colour at all. Perhaps just the teeniest hint of warmth. Another thing I wasn't expecting? The texture of this powder is divinely creamy. It almost doesn't feel like powder at all.
Infused with miniscule sparkle, we hit a drawback. I just don't feel as though this powder is really 'finishing' anything. I'm used to using my ELF HD Powder to mattify and polish my skin. The Paul & Joe offering doesn't seem to complete a look. I'm not sure how much sense that statement makes but the product doesn't seem to mattify or create a better finish to how my skin looked before. Perhaps it's the sparkles that create too much luminosity for me? Either way... I'd like my final product to complete my look. Add something final. This gives me a hint of warmth and a touch of sparkle... there's clearly something lacking.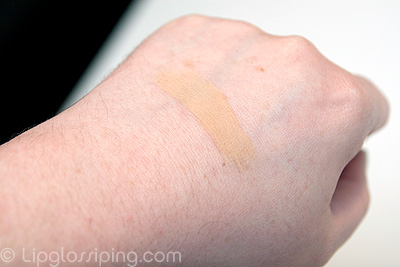 Overall, it's a beautiful product... I can't fault the texture, the packaging... and the scent is divine without being overpowering. It's a lovely, lovely item, but it just doesn't quite do it for me.
How much are they?
Lipgloss - £14
Finishing Powder - £18